Stuffed Chicken Rolls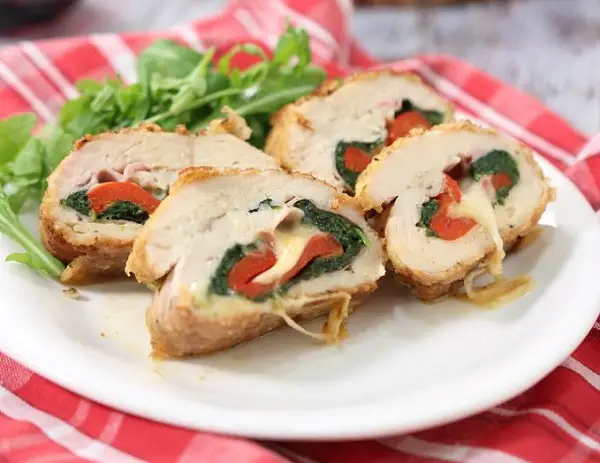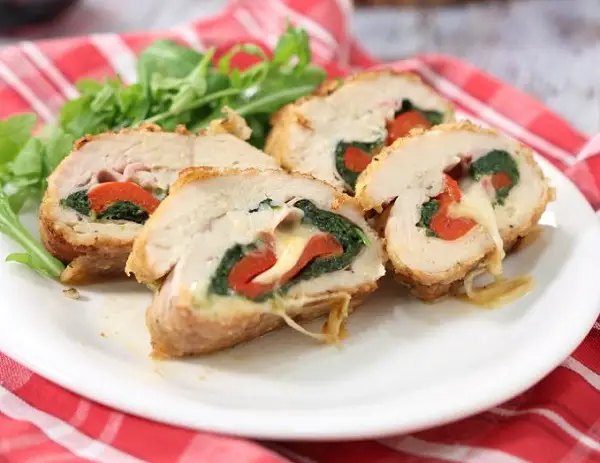 If you are tired of eating plain chicken breasts, this stuffed chicken rolls recipe with warm melted mozzarella cheese, roasted peppers, sautéed spinach and boiled ham is a must try! It may be a simple recipe, but it packs a lot of flavor! If you are not a fan of mozzarella, try it with provolone cheese instead.

Ingredients
    2 Chicken Breasts butterflied, pounded and seasoned with salt and black pepper

    1/2 Red Bell Pepper roasted and peeled

    2 slices of Boiled Ham

    4 slices of Mozzarella

    4 oz. Spinach sautéed in olive oil with one chopped garlic

    2 Tbsp. Butter

    1 Egg scrambled and seasoned with salt and black pepper

    All Purpose Flour for coating

    Breadcrumbs for coating

    Extra Virgin Olive Oil
Instructions
    To start, you will need to roast the red bell pepper in the oven or on the BBQ. Once roasted, place the roasted pepper in a brown paper bag or in a bowl covered with plastic wrap to allow the pepper to steam itself while cooling off. This will naturally remove the skin from the pepper and make it easy to peel off. Cut the roasted pepper in half.

    While the pepper roasts, sauté the chopped garlic clove in a pan with a drizzle of olive oil for one minute. Add the spinach and sauté until the spinach has wilted. Remove from the pan and set aside to cool off.

    Position rack to the middle position and preheat the oven to 400°F.

    While the pepper and spinach cool off, begin preparing the chicken breasts. Butterfly both chicken breasts and pound them to make them thinner and to tenderize. Season with salt and black pepper.

    Place one slice of ham over each chicken breasts, close to one of the edges. Top with half of the sautéed spinach and spread over the slice of ham. Place half of the bell pepper on top, followed by two slices of mozzarella cheese. Begin to tightly roll the stuffed chicken into itself, starting with the edge with the toppings.

    Sprinkle enough flour on a dinner plate to cover the bottom completely. In a separate plate, sprinkle enough breadcrumbs to cover the bottom completely.

    Coat each stuffed chicken roll with flour first, then submerge into the scrambled egg to coat completely. Lastly, coat each stuffed chicken roll with breadcrumbs. If the roll is a little loose or the ends are too open, close the ends with a toothpick to keep from unrolling.

    In an oven safe sauté pan, heat a large drizzle of olive oil and the butter over a medium flame. Place both stuffed chicken rolls in the pan and cook for three minutes, until browned. Flip over and cook for another three minutes.

    Place the entire pan in the oven and bake the stuffed chicken rolls for twenty-five minutes. Remove from the oven and serve with green beans, a salad or your favorite side dish and enjoy! Salute and cin cin!