Tomato Tortellini Soup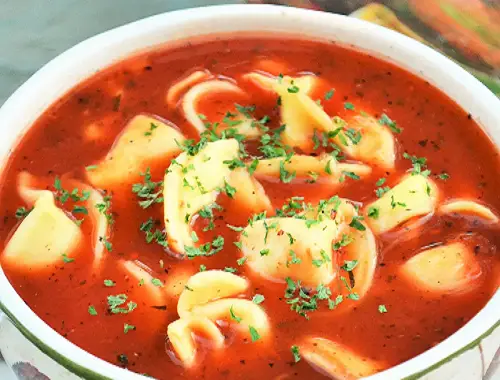 Ingredients
Serves 4 to 6
2 tablespoons unsalted butter

1 medium onion, diced

2 cloves garlic, minced

1/2 teaspoon kosher salt

1/4 teaspoon freshly ground black pepper

1 tablespoon balsamic vinegar

4 cups (32 ounces) low-sodium vegetable or chicken broth

1 (28-ounce) can crushed tomatoes

1/2 cup heavy cream

2 bay leaves

1 (14-ounce) package fresh or frozen cheese tortellini

1/2 cup fresh basil leaves, thinly sliced, plus more for garnish

Grated or shredded Parmesan cheese, for garnish (optional)
Directions
Melt the butter in a Dutch oven over medium heat.

Add the onion, garlic, salt, and pepper and cook, stirring frequently, until tender, about 6 minutes.

Stir in the vinegar. Add the crushed tomatoes and their juices, broth, cream, and bay leaves and bring to a boil. Reduce the heat to a simmer and simmer for 5 minutes.

Add the tortellini and simmer until cooked through, 5 to 6 minutes more (check at 3 minutes for fresh tortellini).

Remove from the heat, remove and discard the bay leaves, and stir in the basil.

Ladle into bowls and top with Parmesan cheese and more basil, if desired.
Recipe Notes
Storage: Leftovers can be stored in an airtight container in the refrigerator for up to 3 days. Reheat in a saucepan over medium heat or in the microwave.