Warm broccoli and beans salad
Warm broccoli and beans salad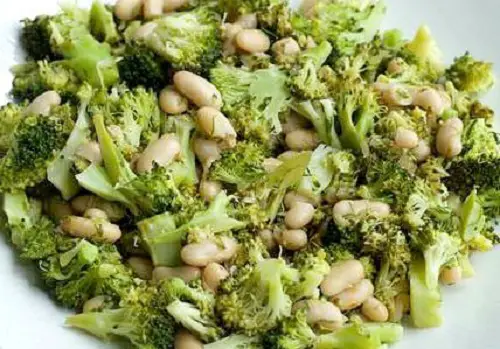 Ingredients for 4 people:
Broccoli 600 gr
white dried beans 200g
1 clove of garlic
1 celery
1 bay leaf
1 piece of red pepper
4 tablespoons of extra virgin olive oil
salt and pepper.
PREPARATION
Put the beans to soak in cold water for 12 hours.
The next morning, peel the garlic and cut the celery into small pieces.
Drain the beans, wash them and put them in a pot then add the celery, garlic, bay leaf and, after they are completely covered with water, put on low heat and gently boil for about an hour.
Season with salt and turn off the heat.
Clean the broccoli, cut into small pieces, wash and drain them then put them in boiling salted water for about 5 minutes.
In a pan heat the oil with hot pepper then add the drained beans, broccoli and continue cooking for another 10 minutes.
Serve hot.